The D.G. Fisher Award
Sponsored by the Department of Chemical and Materials Engineering, University of Alberta, Suncor Energy Foundation and Shell Canada Limited, the D. G. Fisher Award is presented to an individual who has made major contributions in the field of systems and control engineering while a resident of Canada. To nominate someone for this award you need to upload the nomination on ScholarOne via the CIC Awards page. The Terms of Reference for the award and the details for the nomination are also available in the CSChE awards handbook.
2021 D.G. Fisher Award Winner – Radhakrishnan Mahadevan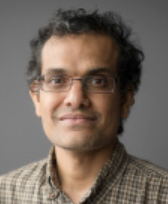 We are pleased to announce that Radhakrishnan Mahadevan, a professor at the University of Toronto, is the most recent recipient of the D.F. Fisher award, for his work on modeling, analysis and optimization of metabolism for applications in bioremediation, biochemicals production and medicine. More information about the recipient and his work can be found on the  
D.G. Fisher Award Page
.
Past Award Winners
| Year | Recipient | Title |
| --- | --- | --- |
| 2020 | Bhushan Gopaluni | Data Analytics in Process Industry |
| 2019 | Chris Swartz | Optimization of Uncertain Dynamic Systems with Application to Process Operation and Design |
| 2018 | Martin Guay | Fast Extremum Seeking Control: Theory, Methods and Applications (D.G. Fisher Award Lecture) |
| 2017 | Kim McAuley | Modeling of Chemical Processes:Challenges and Opportunities |
| 2016 | Paul Nokimos | Data Driven Value Creation |
| 2015 | Peter Douglas | Real-time Predictive Inference of Critical Process Variables in the Presence of Uncertainties |
| 2014 | Hector Budman | Application of Polynomial Chaos Expansion to Robust Control and Robust Optimization of Chemical Processes |
| 2013 | Biao Huang | Real-time Predictive Inference of Critical Process Variables in the Presence of Uncertainties |
| 2011 | David Shook | A Practical Approach to Plant-Wide Control of a Hybrid System: Application to a Portable SAGD Plant |
| 2010 | J. Fraser Forbes | Plant-Wide Decision-Making: Distributing the Load 2009 Michel Perrier Challenges in Biosystems Control and Optimization |
| 2009 | Michel Perrier | Challenges in Biosystems Control and Optimization |
| 2008 | Thomas Marlin | A Robust MPC Approach to Supply Chain Optimization |
| 2007 | Barry Cott | Unit-Wide Model Predictive Control with SMOCPro |
| 2006 | Sirish L. Shah | Plant Health Management: the Role of Digital Automation Systems in Process Monitoring |
| 2005 | Thomas Harris | Interpretations and Analysis of Performance Bounds for Multivariable Systems |
| 2004 | David W. Bacon |   |
| 2003 | Guy Dumont |   |
| 2002 | Park Reilly |   |
| 2001 | John F. MacGregor |   |